Our economic diplomacy is based on bilateral agreements, annual meetings of the Joint Economic Committee, regular meetings of the Heads of Goverment and common research funds.
There is significant Hungarian corporate attitude towards the israeli market, with a focus on a few specific areas (eg. IT, R&D). Main areas include agriculture, food, tourism, water managment, start-up development and innovation industry.
Israel is characterized by high value-added exports as the country's ressources in raw materials are poor. Israel mainly imports these. Israel wants to be the 15th largest economy in the world by 2025, relying heavily on its high-tech and innovation sector, increasing the labor market activity of religious and Arab communities, working more closely with regional and emerging markets, developing the country's periphery and liberalizing historic monopoly markets.
Since the founding of Israel, the trade union movement (Histadrut) and the Israeli Defense Forces (IDF) played an important role in the economy, as well as moshavim and kibbutzim in the agricultural field.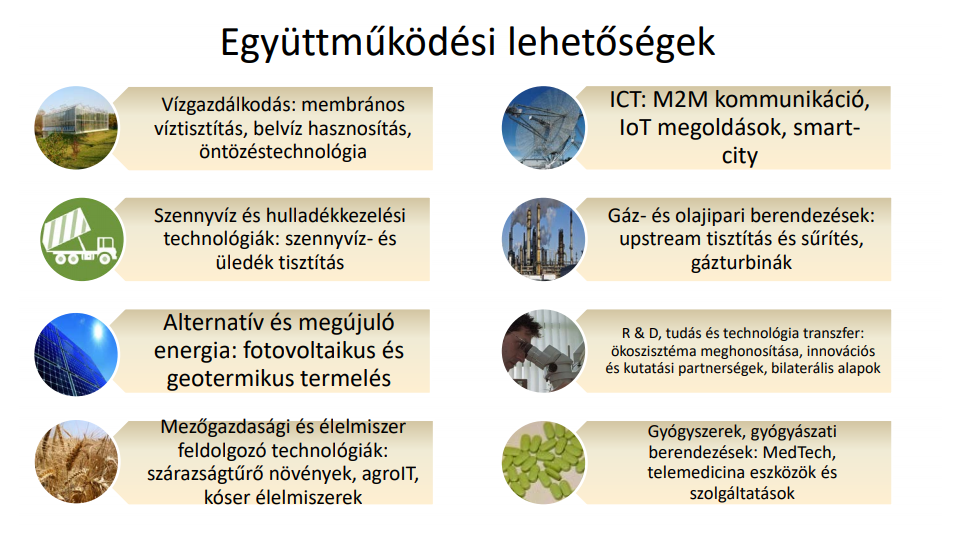 (Cooperation fields between Hungary and Israel)
Israel is one of Hungary's largest investors.
Largest Hungarian investors and their activities:
TEVA Pharmaceuticals Ltd. (Pharmaceutical Manufacturing),
NNG Software Development and Trading Ltd. (development of navigation and other softwares),
TAMA Hungary Kft. (Production of plastic sheets, plates, foils, pipes, profiles),
PALMI-TOP Kereskedelmi Kft. (Poultry meat processing),
WELL DONE St. Moritz Producer, Trade and Agent Ltd. (Wholesale of porcelain, glassware, cleaning products),
CARDO Furniture and Mattress Manufacturer Ltd. (furniture production).
 
More information (in Hungarian): http://exporthungary.gov.hu/orszagismertetok?orszagismerteto-izrael
---
Investing in Hungary
For investing opportunities in Hungary, we invite you to visit the Invest in Hungary page of our Embassy's website where we have also collected a list of useful links. 
---
Feel free to contact us:
Foreign Economic Attachés: Mr. András LITAUSZKI and dr. Ágnes BÉRES
E-mail: trade.science.tlv@mfa.gov.hu  
Phone: +972 3 545 6666